Project Heidegger was a semester-long project done at the Silicon Valley campus of the ETC during the spring semester of 2013. Project website here. (Opens in a new window.)
The project was done in collaboration with EA's Office of the Chief Creative Officer (OCCO) with the goal of creating a system that would analyze a player's gaming style in an obtrusive manner, then provide specific, personalized recommendations for other games the player might enjoy. The project was composed of three parts: extensive playtesting of co-op gameplay of Dead Space 3 and Army of Two: The Devil's Cartel to gather metrics on videogame playstyles; playtesting with a custom-created Dead Space 3 co-op level (created in conjuction with a level designer from Visceral Games) to test our hypothesis on which player types would most enjoy co-op gameplay; and creation of an Origin module that will present all collected data and analyses in the form of unique recommendations.
As 2D artist, I was responsible for UI work and promotional materials.
Other Team Members:
Nathan Baran - Producer
Emmanuel Eytan - Backend programmer
Shaveen Kumar - Programmer
Feiran "Vera" Li - Programmer
Martin Mittner - Designer
Xing "Star" Xu - Associate Producer & programmer

Work samples: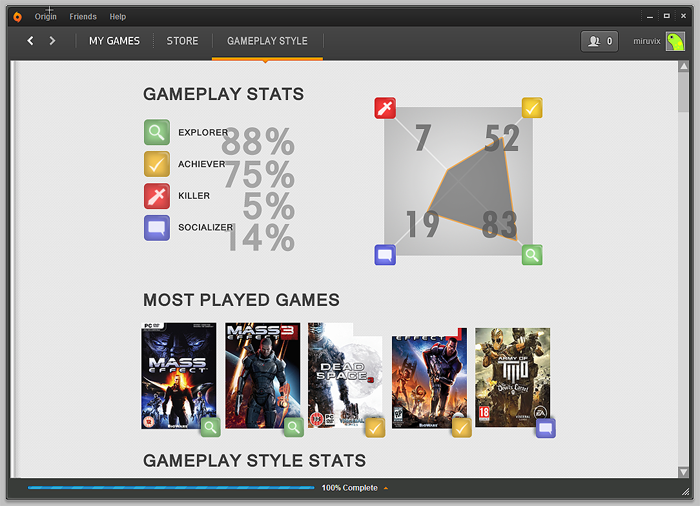 Final version of the Origin module, replicating Origin's original layout and features in a web browser using HTML5.

Iterations for potential features in the Origin module, displaying personalized information and recommendations. Focus was placed on adhering to Origin's existing style guidelines.

(click for a larger version, opens in new window)