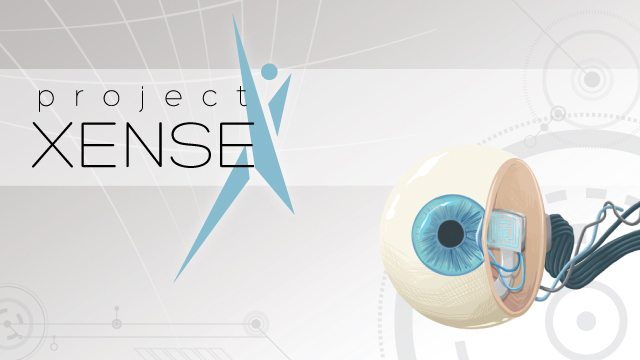 Project Xense was a semester-long project done at the ETC during the spring semester of 2011. Project website here. (Opens in a new window.)
The client, the Telemedicine and Advanced Technology Research Center (TATRC), a branch of the Department of Defense, requested that our team create an interactive, educational museum exhibit focusing on medical implants and prosthesis technology. Over the course of the semester, our team created three small exhibits, one each to focus on the topic of retinal implants, cochlear implants and neuroprosthetics; these exhibits use EEG headsets, head-mounted displays and real-time video processing in order to give museum guests a first-hand glimpse of what life with prosthetic technology might be like. The project is part of a larger "CyberPeople" exhibit at the National Museum of Health and Medicine, located in Washington D.C.
As 2D artist, I was responsible for all texture and UI work, as well as all promotional materials. For Project Xense, I was also responsible for any scriptwriting, mostly involved with the exhibit on cochlear implants.
Other Team Members:
Albert Gea - Producer
Elwin Lee - Interaction designer & film artist
Arvind Kumar - 3D artist & game designer
David Francus - Hardware & systems integrator
Zeina Tasar - Programmer

Work samples: